We'll take the crumbs
Original Reporting
|
Scott M. Stringer, the Manhattan borough president who is now a candidate to be New York City's comptroller in the 2013 election, has been outspoken on the need to expand not only the Second Avenue subway, but create other subway lines as well. In April 2012, he told the Association for a Better New York, a New York City civic advocacy organization, that, "[W]e should not give up on thinking big and expanding our subway system."
In that speech, he proposed a variety of measures to increase funding for transit investment that would rely on money from the city and state — including the creation of a New York City infrastructure bank and a reinstatement of the commuter tax. These investments, including the Second Avenue line, are necessary, Stringer wrote in an email message to Remapping Debate, because the subway system, though an "urban marvel…no longer meets the needs of the 21st century, five-borough economy."
Such a funding plan would represent a major departure from the current norm. As Brodsky explained: "As important as the Second Avenue subway is, and it is, the MTA's capital needs go well beyond that, and that there is no fully funded MTA capital plan is a real problem."
So where is the money?
State support for the MTA has been declining for years, and the MTA's five-year capital plan, out of which "state of good repair" improvements, normal replacements, as well as expansions are funded, is being increasingly financed through MTA bonds (the Authority's debt now stands at $32 billion). But because the MTA is responsible for the debt service on those bonds and does not get help in doing so from the state's general fund, such payments now account for $2.1 billion (17 percent) of the MTA's annual operating budget, up from $797 million in 2003.
As reported in the first part of this series, the City's current contribution makes up about 4 percent of the MTA's capital budget. Neither Mayor Michael Bloomberg or City Council Speaker Christine Quinn, nor prospective mayoral candidates Bill de Blasio (also the current city public advocate) and Bill Thompson (the former city comptroller) granted interviews to Remapping Debate or replied to emailed questions asking whether the City is meeting its need for mass transit and what, if anything, they were doing to advocate for funding a full build-out of the Second Avenue subway.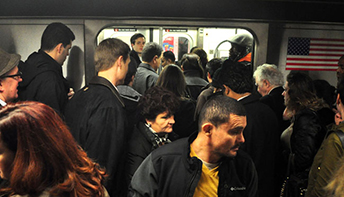 Brad Lander, a City Council Member from Brooklyn who is a member of the transportation committee, told Remapping Debate that a variety of city transit projects deserve attention, not just the Second Avenue subway. "I am eager to see, in general, an expansion of the transit system capacity," Lander said.
"What we need now more than 'this project' or 'that project' is a big commitment to invest the resources to expand the system…I'd rather focus on that than say, 'I want this or that.' I would like this and that."
He suggested that there was room for the city to contribute more to the MTA's capital program, but also added that "[expansion] projects are expensive, and I think you need city, state, and federal commitments if we are going to have a chance of getting things done on the scale needed."
Gale Brewer, a city council member representing the Upper West Side and, with Lander, a member of the City Council's transportation committee, agreed that the city needs a fully built-out Second Avenue subway, but added that it was only one of a number of unmet needs. Brewer asserted that the city doesn't have the funds to contribute more to the capital budget, and said that, because the MTA is a state agency, projects like the Second Avenue subway need to be "state pushed." James Vacca, the chair of the transportation committee on which both Lander and Brewer serve, did not return repeated requests for comment.
Given the mass transit status quo — limited capital available for keeping the existing system in a state of good repair, let alone expanding it — Remapping Debate sought Governor Cuomo's view as to whether forcing needed transit projects, including the Second Avenue subway, to compete with one another for tight funding meant that the state was condemning its citizens to a wholly inadequate infrastructure. His office did not make a representative available for an interview and did not respond to this emailed question or others asking what, if anything, the Governor had done to advocate for a fully built Second Avenue subway project.
Pages