We'll take the crumbs
Original Reporting
|
Dec. 19, 2012 — Two weeks ago, Remapping Debate published a story detailing how a fully built-out version of the Second Avenue subway — one that can be built quickly and which would maximize benefits to the residents of New York City — remains only a dream. It was clear that the primary cause was a lack of political and budgetary will, but we deferred our reporting on how New York politicians explain this failure.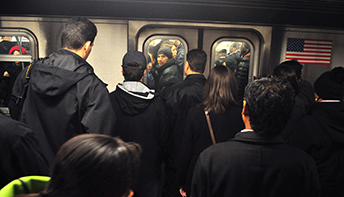 Both before and since the publication of that article, Remapping Debate conducted extensive outreach to elected officials representing New Yorkers at the federal, state, and city level. Most — including many of those who hold themselves out as advocates of mass transit — never returned repeated requests to comment on the future of the project.
Very few were prepared to discuss how more persistent advocacy in favor of needed mass transit projects, like a full build-out of the Second Avenue subway, could move the existing political dynamic away from the idea that needed mass transit projects are "unrealistic."
The New York area politicians that did respond to interview requests confirmed the arguments of transportation planners, engineers, and the MTA in identifying the benefits of completing the Second Avenue subway. They pointed to the economic development potential up and down the East Side, reduced commute times for workers, increased accessibility for residents, and reduced overcrowding on the Lexington Avenue Line subway platforms and cars. Furthermore, politicians discussed the costs incurred by not proceeding with the line, including escalating expenses, missed opportunities to borrow funds at historically low rates, and delays in delivering the expected benefits to the city and its residents.
Richard Brodsky, a former state assembly member who represented parts of Westchester County and who is now a senior fellow at Demos, a liberal think tank, was not surprised at such uniform responses to questions about the benefits of completing the Second Avenue subway or the costs of delaying it. He told Remapping Debate, "I don't think you are going to get significant numbers of people saying that the Second Avenue subway is a bad idea." What will happen, he added, is "you are going to get significant numbers of people saying, 'How are you going to pay for it?'"
Choices, not inevitabilities
"We've seen this move [to] where more and more Democrats are aspiring to sound like many Republicans" by deploying the "no-spending mantra."
— José M. Serrano, New York State senator
As we have reported, only a small segment of the Second Avenue subway — from 96th Street to 63rd Street — has been funded. It will open in 2016. That the MTA has not been funded to proceed with a full build-out is a matter of priorities, not necessity, and is certainly "not inevitable," according to Brodsky. Dan Quart, a state assembly member whose district includes the Upper East Side and East Midtown, agreed, telling Remapping Debate the pace of the project is constrained largely by "limits" in our "thinking of what is possible to accomplish." Quart said that more money could be allocated for the project.
José M. Serrano, a State Senator whose district includes East Harlem and parts of the Bronx, added that what holds the project back is "that there isn't a lot of political will."
"Unfortunately," he continued, "we've seen this move [to] where more and more Democrats are aspiring to sound like many Republicans" by deploying the "no-spending mantra." Responding to austerity rhetoric, he said, requires a "push back" with the argument "that the vast majority in our community favor raising revenue for public work projects that will keep our city vibrant and…an economic capital."
Pages