Warnings of doctor shortage go unheeded
Original Reporting
|
"We have examined how much expansion we could have in existing [residency] programs, and it's not a whole lot," Sheldon said. "Now we're starting to look for places that aren't currently doing training, and see which ones might be made available to do it."
Whitcomb agreed that, within the current infrastructure, it is unlikely that there are enough hospitals willing to take on the training associated with the increased residency slots required to maintain the current physician-to-population ratio.
"No matter what we do, we are going to end up with a shortage of physicians in the next decade, which will grow progressively worse if nothing is done now," Whitcomb said.
"It may well be that we can't keep up," Sheldon added, "but we haven't even started. It may well be we can't solve the problem, but I don't think that's a reason to believe we shouldn't try to."
The government's role
Every step of the process of increasing physician supply requires some action on the part of state and federal lawmakers. Most new medical schools require state funding to open, and many are opened as part of existing state universities, like the University of Central Florida and Texas Tech University, both of which have started medical schools with "preliminary accreditation" status.
"Even as the body of evidence for a shortage was growing," Richard Cooper said, "the government and people in the medical field were still debating those projections."
Large increases in medical school enrollments in the past have also been funded by the federal government. In the 1960s and '70s, enrollment at U.S. medical schools more than doubled, largely due to funding from the 1963 Health Professions Education Assistance Act, which provided grants for the construction of new facilities and the expansion of existing schools. This action was a direct response to two reports issued by the Office of the Surgeon General in 1958 and 1959, both of which predicted a coming shortage of physicians.
The two-decade expansion in medical education stopped in the early 1980's because government reports at that time predicted that the U.S. would experience a surplus of physicians by the year 2000. New medical school expansion halted, and in 1997, Congress passed the Balanced Budget Act, which limited the number of medical residencies that could be funded through Medicare to the 1996 level.
At that time, there was a broad consensus in the medical community that the education system was producing more physicians than were necessary, and the limits placed on funding were supported by the AAMC, the American Medical Association, and the Council on Graduate Medical Education (COGME).
That consensus broke in the late 1990s, when Richard Cooper and a handful of other physicians and researchers began to question the projections of a surplus. In 2002, Cooper published an influential paper that raised doubts about the previous projections.
"Everybody was saying that by 2000, there would be this huge surplus of physicians," Cooper said in an interview. "That didn't happen."
In the following few years, the AAMC, AMA, and COGME all reversed their positions after largely adopting Cooper's model. In January of 2005, COGME released a report that deviated from its previous position by projecting a physician shortage, and recommended a "multi-prong strategy" that included increasing the number of physicians entering residency training by 3,000 every year for 10 years.
According to Cooper, however, the "political headwinds" at that time were just too strong, and none of the groups had the desire to push very hard against them.
"Even as the body of evidence for a shortage was growing," he said, "the government and people in the medical field were still debating those projections."
According to the AAMC, congressional resistance to their proposals was budget-related. The AAMC's proposals would have cost $10 billion over 10 years.
"Whenever we would approach the [House] Ways and Means Committee, they would look at us and say, 'That's a lot of money,'" said Christiane Mitchell, senior legislative analyst for the AAMC. "They were not convinced about the severity of the issue."
The Dartmouth perspective
Though there has been a growing consensus in recent years among medical advocacy groups and some members of the government that a shortage is imminent, a small but vocal group of critics in the medical community has continued to argue against proposed increases in physician supply. Most notably, research conducted by the Dartmouth Institute of Health Policy and Clinical Practice on physician distribution and medical costs versus outcomes by researchers has gained increasing attention.
Distribution of Surgeons
Map & Data Resources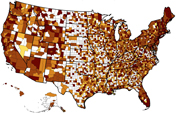 The ratio of surgeons-to-population varies widely from one county to another in the U.S.
These researchers have criticized the methodology of the physician supply projections made by the AAMC, on the grounds that those models assume that physician supply is currently appropriately matched to patient demand are currently equal.
"The fact is that the way that those models operate is they basically take today's physician utilization levels, across different types of insurance and for different populations, and simply project them into the future," said David Goodman, director of the Center for Health Policy Research at Dartmouth.
George Sheldon agreed with Goodman that it is wrong to assume that supply and demand are equal, but for a very different reason. In Sheldon's view, there are already too few physicians in the country, not too many. In many specialties, including general surgery, there are already reports of shortages coming from many parts of the country, he argued (see sidebar). Thus, Sheldon said, projections of future shortages based on assumptions that the current supply is adequate wind up understating the extent of the future doctor shortage.
But Goodman maintained that increasing the supply of physicians into a dysfunctional healthcare system would only exacerbate that dysfunction.
"We know that new physicians don't settle where needs are greater," he said. "So you have this very irrational supply in the way that physicians are distributed."
Goodman added that, according to Dartmouth's research, there's very little association between physician supply and patient outcomes, except when the physician-to-population ratio is even lower than it is projected to be in the next two decades.
Pages