Passing new bucks?
Original Reporting
|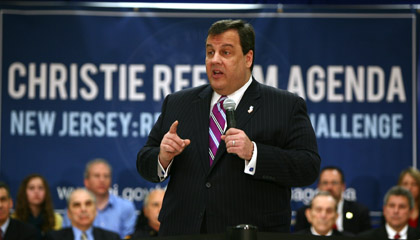 March 16, 2011 — The township of Mount Holly is in central New Jersey, near the Delaware River. It has 9,536 residents, some of whom work across the river in Philadelphia.
Last week, along with at least 26 other municipalities in New Jersey, Mount Holly notified its residents that it may be holding a referendum in April, in which voters will be asked to approve local property tax increases in excess of a state-imposed two percent annual cap that was pushed through by Governor Chris Christie last year. New Jersey currently allows municipalities few other ways to raise revenues — local sales and income taxes are entirely off-limits — and, it turns out, the failure to approve the referendum will mean substantial cuts in core municipal services.
There had already been a four percent annual property tax cap put in place by the previous governor, Jon Corzine, in 2007. But that cap — in addition to permitting greater annual increases — allowed municipalities who believed they needed to raise property taxes by more than four percent to plead their case before the state's Local Finance Board. The Board granted waivers to nearly all who applied.
New Jersey's current governor, Chris Christie, pushed through the new cap last year. The tighter cap cuts in half (from four percent to two percent) a municipality' ability to make property tax decisions through the normal legislative process. It also imposes a new hurdle: the requirement that any municipality that wants to increase property taxes by more than two percent get voter approval for that step in a referendum to be held on April 27th, the same day as the vote on annual school district budgets.
"I'm just glad winter's over. I don't know who is going to plow the streets next year." — Kathleen Hoffman, Mount Holly Township Manager
Christie spokesperson Kevin Roberts said that the cap was designed to force towns and cities to "get their fiscal houses in order," and that the referendums were meant to make it harder for municipalities to circumvent the cap.
Township manager Kathleen Hoffman said that Mount Holly has already cut its budget down "to bare bones." Last year, the town was forced to lay off all of its part-time and seasonal workers, as well as some full-time workers, she said. Mount Holly already shares some services — like trash collection — with neighboring towns. Hoffman said she was grateful that, thus far, the town has not been forced to lay-off any police officers, as have many other New Jersey municipalities.
"We're at the point where municipal offices close if somebody has a sick day," Hoffman said. "They're predicting a flood next week, and we'll have to chose between sandbagging buildings or clearing brush from storm drains, because how can you do both when you only have six people in [the] public works [department]?
"I'm just glad winter's over," she continued. "I don't know who is going to plow the streets next year."
Hoffman did not yet know how large a tax increase Mount Holly would ask for, or which additional services would be cut if it failed to pass, but she said that police layoffs would be likely, since the police force accounts for one-third of Mount Holly's budget. Still, she was doubtful that voters would pass the referendum.
While Roberts placed the blame for rising costs and property taxes squarely on the municipalities themselves, several officials in other towns that may hold referendums next month said that it was the state tax policy that forced them to rely so heavily on property taxes in the first place.
They argued that the referendum process, while framed as a way to give voters the final say over property taxes, masked a larger issue: a state policy that puts the burden on municipalities to raise the revenue they need, but ties their hands by barring them from raising revenue except by means of increasing property taxes.
The referendums, they said, presented voters with a false choice: to raise their already-high property taxes still further, or to do without some essential services. There are other choices, too, officials pointed out, but they are ones that the state has already foreclosed to them.
Cutting 172 out of 369 jobs?
Not all of the 27 municipalities that have notified voters of a possible referendum may actually hold one. The Municipal Clerk of Edgewater Park Township, Linda Dougherty, said that while the town notified residents last week, it had since been able to balance its budget within the two percent cap, partly because it will maintain a four-day workweek for town employees (excluding police) that was instituted last year.
The towns that will potentially hold referendums are spread across the state, from the southern Pine Barrens to the Jersey Shore, and they vary in size and demographics.
The substance of each referendum will be different, as well. Some municipalities, like Mount Holly, have not completed their full budgets, so they do not know exactly how much they will ask for.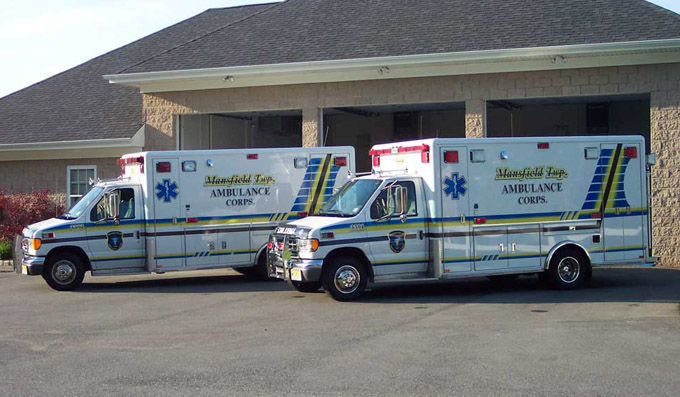 Some towns will peg the tax increase to specific services to try to make the increase more palatable. David DelVecchio, the mayor of the City of Lambertville, said that the referendum would simply allow voters to decide whether they wanted to continue paying a fee for garbage removal or pay for the service through property taxes.
"We're an unusual case," DelVecchio said. He has already downsized many city departments, including public works, the courts, and the police, and so does not expect to have to make further layoffs this year.
In Mansfield Township, which is in western New Jersey and has a population of 8,544, the referendum would be limited to one issue: $90,000 to fund the operations of the first aid squad.
"We thought that limiting the question to one item, and an item of importance of all residents in terms of the health and safety of the community, that that would be a much more palatable questions that we hope would pass," said Mansfield Chief Financial Officer Joseph Monzo. The first aid squad serves as the ambulance for the town.
Last year, the Mansfield government laid off three police officers, three sanitation workers and the township administrator. "We're running out of people to lay off," Monzo said, but added that, in addition to the money for the first aid squad, the town would also reduce the hours of some workers.
"If I wanted to balance my budget without making any salary cuts, I'd have to ask [voters] for a couple hundred thousand dollars," Monzo said. "I don't think the voters would pass that."
In the Township of Brick on the Jersey Shore (population 75,072), the anticipated cuts would be much larger. Chief Financial Officer Scott Pezarras said that the Town Council had not voted on whether or not to hold a referendum, but that he anticipates that the Town Council will put such a measure to residents.
Pages