Life getting shorter for women in hundreds of U.S. counties
Original Reporting
|
But those initiatives will have to wait. "I don't see our budget increasing anytime soon," Duncan said. "We're trying to do more with less, and think of innovative solutions. The problem is, when you're trying to create programs with long-term benefits and then funding gets cut, it takes you twice as long to recover even when your funding comes back."
During the 2010 fiscal year, the Oklahoma State Department of Health saw its funding cut by 7.5 percent, which has not been restored in the current budget. In 2010, the cuts prompted State Commissioner of Health Terry Kline to tell state legislators that, "Oklahoma is about to become the public health joke of the country."
The Mississippi delta
The life expectancy in Mississippi was the lowest in the country in 2007, at 77.9 years for women and 70.9 years for men, trailing the national figures by several years in both cases. And in one fifth of Mississippi counties, things are getting worse.
The 20 biggest gainers and losers
Map & Data Resources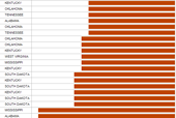 Change in life expectancy by county and gender, 1987-2007
In Sunflower County, a county of fewer than 30,000 people near the Mississippi River in the northeastern part of the state, life expectancy for women decreased more significantly than virtually anywhere else in the country, from 75.5 years in 1987 to 73.6 years in 2007. That number gives Sunflower the dubious honor of having the second lowest life expectancy for women of any county in the country; first place goes to nearby Holmes County, where life expectancy for women decreased by nearly a year (to 73.5 years) in the same period.
Alfio Rausa, the district health officer for 18 counties in the Mississippi delta including Sunflower and Holmes, was not surprised that Sunflower fared so poorly; if anything, he was surprised that many of the surrounding counties had improved.
"Things in the Delta have only gotten worse in the last 20 years," Rausa said. "There are fewer job opportunities, fewer programs, more unemployment, more poverty."
Sunflower is notable for having an exceptionally high obesity rate — 41 percent of adults in the county are obese, according to the CDC — and 46 percent of children in Sunflower live in poverty. The teen pregnancy rate is twice the national average, according to the CDC, and 65 percent of children live in a single-parent household.
Rausa noted other factors that are less commented upon but which he said were also contributing to poor health in the region.
"These counties are so small, that they can't support a supermarket," he said. "If you live in the northern part of the county, you might have to drive 90 minutes to get to Indianola," the county seat and nearest large town. "There's a Wal-Mart there that has decent produce."
"I don't think people in other parts of the country can imagine how people are living down here," Mississippi's Alfio Rausa said. "We've been left behind."
Additionally, Rausa said that he had noticed more people living in very poor conditions, especially in rental apartments. "There's no state law in Mississippi that says that in order for a property to be rentable, it has to meet certain health criteria," he said. "So you see people living in places with dirty water, asbestos, infestations."
Rausa said that the public health department has been "flat-funded" for the last several years, despite an increase in demand for services. The CDC recently issued a grant to the public health department in the delta region for a demonstration project to prevent heart disease, stroke and other chronic diseases, and some projects aimed at increasing access to healthy food and educating children about healthy habits began this year, Rausa said.
But, overall, he doesn't see much changing until the socioeconomic risk factors are addressed. "I don't think people in other parts of the country can imagine how people are living down here," Rausa said. "We've been left behind."
Why is this happening?
Though researchers have long speculated about the causes of regional disparities in health outcomes, many are hard-pressed to explain an absolute decline in life expectancy in some places, because doing so requires determining which factors have gotten worse in the last two decades.
Mokdad and his colleagues and the IHME prioritize behavioral factors, such as smoking, exercise and eating habits. CDC data shows that none of the states which experienced declines in life expectancy from 1987 to 2007 had obesity rates of more than 15 percent of the population as of 1990; by 2009, however, the obesity rate was more than 30 percent in all of them, and had not risen as fast in any other states.
That could partially explain why the decline was so much more pronounced for women than for men, because women typically have higher obesity rates and also suffer greater health consequences from obesity than men do. Others have pointed out that smoking trends have not decreased as quickly for women as they have for men, and that the consequences of beginning smoking in the mid-part of the century can explain more of the disparity.
Regional disparities in life expectancy have often been attributed to differences in socioeconomic factors like family income, but IHME researchers searched for a correlation along these lines and found that only about 10 percent of the decline could be attributed to change in income or demographics.
David Kindig, an emeritus professor of population health sciences at the University of Wisconsin's Population Health Institute who said the study's "shocking" findings on life expectancy should be a "call to action," cautioned that social factors should not be dismissed as a cause.
"All of the evidence we have shows that the social determinants of health are just as important over time as medical care and behaviors," he said. Kindig noted that he and his colleagues at the University of Wisconsin had found a correlation over time between life expectancy and child poverty. He noted, however, that it is very difficult to isolate and study individual factors. "We know there is this huge web of causality," he said. "All of these factors are connected."
Pages