Life getting shorter for women in hundreds of U.S. counties
Original Reporting
|
June 22, 2011 — Every generation born in the United States has lived longer than the one before, and so it has been easy to assume that the upward trend would continue. But while life expectancy in the country as a whole has continued to rise steadily for the last twenty years, a new study shows that life expectancy for women has actually declined during this period in 313 U.S. counties, most in the Southeast, the Southern Midwest, and Appalachia. Life expectancy for men, by contrast, only declined in six counties (although the study did find that men in these same areas tended to have worse outcomes than men elsewhere). In what some experts have dubbed a public health crisis, these findings mean that children born today in many parts of the United States can expect to live shorter lives than their parents.
"We have talked about this trend as being the biggest decline in life expectancy since the Spanish flu epidemic of 1918 in the U.S.," said Ali Mokdad, a professor of global health at the Institute for Health Metrics and Evaluation (IHME) at the University of Washington, which issued the report. "There is no perfect analogue, though, because what we are seeing is not the result of an epidemic in the traditional sense."
Life expectancy for women has actually declined in 313 U.S. counties, most in the Southeast, the Southern Midwest, and Appalachia.
Using data culled from death certificates by the National Center for Health Statistics, an arm of the Centers for Disease Control (CDC), researchers at the IHME drilled down to the county level to track life expectancy from 1987 to 2007.
In addition to the gender disparities, the regional variations are striking: while life expectancy increased in the North with few exceptions, huge swathes of the South saw decreases for women, in some cases by as much as nearly two years. Decreases were particularly concentrated in Alabama, Kentucky, Mississippi, Missouri, Oklahoma, Tennessee, and West Virginia.
Mokdad speculated that increases in the prevalence of major risk factors for chronic diseases — especially obesity and smoking among women — were probable, though not definitive, causes of lower life expectancy.
Remapping Debate spoke with several county and state public health officials in areas where life expectancy decreased, anticipating that we would get a clearer picture of what was happening on the local level. While some were not surprised to hear about the IHME's findings, others expressed bewilderment.
"That is just so surprising," said Gino Solla, director of the Ector County Health Department, in eastern Texas, where life expectancy for women decreased by more than seven months between 1987 and 2007. "I could offer you an explanation, but I'd just be shooting in the dark."
Appalachia
Patrice Beverly is the Health Education Coordinator for Pike County, Kentucky, on the eastern tip of the state bordering Virginia and West Virginia. Life expectancy for women decreased in nearly all of this region. But Pike County is one of only two counties in the country in which life expectancy decreased for both men and women.
"For men, that makes more sense, because so many men work in the coal mines," Beverly said, adding that a larger proportion of men are employed in mining than in the past for lack of other opportunities. "But I don't know about the women. The only trend that I can think of is possibly that women have gone back to work, which adds the stress of keeping up a job to keeping up a family."
Beverly also said that there's a large problem with health care access in Pike County. "A lot of families live kind of off the road," she said, "and it's hard to get in there to check on people."
But she said that she personally attributes the health problem to cultural trends more than economic ones. "We tried for a long time to get adults to stop smoking, eat better, exercise, but I've realized that at a certain point, it becomes very hard to change people in their life's journey," she said.
Changes in years of life expectancy for women in U.S. counties, 1987-2007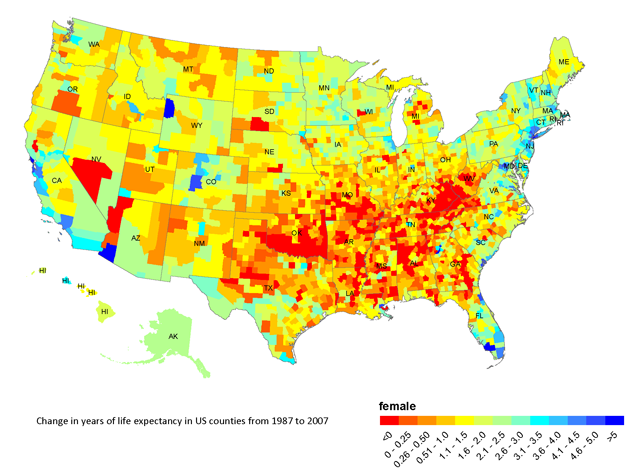 Source:Institute for Health Metrics and Evaluation at the University of Washington