Detroit consigned to an unnecessarily bleak future?
Original Reporting
|
An eroding tax base
As the population has fallen, the city's tax base has eroded. According to Bettie Buss, a senior research associate at the Citizen's Research Council of Michigan who was previously the supervising budget analyst for the city, Detroit has had to raise property tax rates continuously as the number of taxable properties has decreased and as the taxable value of those properties has declined.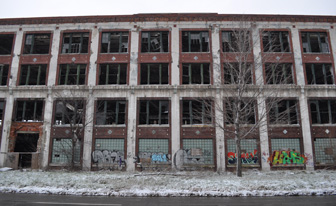 Detroit is one of only a few municipalities in Michigan with an income tax, but those revenues have also been declining, as an increasing number of residents have become poor or unemployed. In 2000, Detroit collected $378 million in income taxes; by 2010, it was collecting only $245 million. The city has also instituted a gambling tax in its casinos, which has come to represent more than 10 percent of the city's budget.
"Detroit is already very heavily taxed," Buss said. "Property and income tax rates are at the maximum level allowed by the state. There are very few options for the city in terms of raising more revenue."
Compounding the problems on the revenue side has been a dramatic reduction in funding from the state: that "revenue sharing," measured in 2010 inflation-adjusted dollars, has declined from $420 million in 2000 to $275 million in 2010. Buss said that she expects another sharp decline this year, as the Governor's budget cut revenue sharing by a third.
Even as the population of the city has shrunk, its area has not. Detroit is currently 138 square miles, larger than San Francisco, Boston, and Manhattan combined. "The city still has to provide services — police, fire, trash pick up, maintenance, lighting — to that entire area," said Mogk. "As the population has become more impoverished, demand for services has gone up."
For those reasons, Detroit has accumulated a chronic "structural deficit" — that is, a gap between what the city spends and what it can raise in revenues — even in good economic times. The primary way that Detroit has grappled with that deficit over the last eight years is by issuing bonds. According to the Michigan Department of Treasury, Detroit's debt load reached more than $10 billion at the end of the last fiscal year. And, because many of Detroit's bonds are rated below investment grade, Detroit's borrowing and debt-service costs are particularly high.
The result is not only fewer resources to take care of current needs, but fewer resources to tackle the longer-term issues of turning vacant land to productive use, restoring the tax base, arresting and reversing the city's loss of population, and putting Detroit on track to provide provide robust services to its residents and businesses.
Any change will be expensive
Most current discussions about structural changes examine Detroit in isolation, as opposed to considering the city in its regional context. Within that Detroit-only frame, some have suggested that the city needs to be "right-sized" — that is, the service area needs to be shrunk. Bing agrees, and, at the beginning of his Administration, he created the Detroit Works Project, a planning organization funded primarily by foundations that has been working on a plan to concentrate residents and businesses in a smaller area of the city. Detroit Works has been plagued by delays, however, leading some to fear that what many have described as Bing's "signature initiative" has ground to a halt.
the pitfalls of "right-sizing"
While right-sizing holds some promise as a way to deal with Detroit's structural issues, advocates stress that it is not, in itself, a panacea. The first question, according to Bettie Buss of the Citizens Research Council of Michigan, is to figure out where the financing for a right-sizing initiative will come from.
But several experts said that one of the primary issues that Detroit faces is that it is, in many ways, separated from the rest of the regional economy in Southeast Michigan. Some advocates worry that right-sizing efforts, if not combined with other reforms to integrate the City into the regional economy, could end up isolating Detroit even further.
Lastly, no one has suggested that right-sizing would be a quick process. "It would not be possible to overcome all of the political and economic barriers in a year or two," Buss said.
Proposals to shrink the service area of Detroit have been contentious, and there is much disagreement over what the reconfigured city would look like. Some have proposed giving or selling cleared land to corporate or non-profit farms; others have suggested that those areas of the city should just be cleared and left as green-space. But one thing that all advocates of right-sizing agree on is that it will be very expensive.
"You would have to provide new places for people to live, and probably give them money to incentivize them to move," said Buss. Additionally, not all of the vacant land is owned by the city, she said. "One of the challenges for redevelopment in Detroit is that while the city and state and county own tens of thousands of parcels of vacant land together, you also have to deal with banks who own foreclosed properties and private owners who have bought land for a song and are just sitting on it."
And the city has had trouble funding the demolition of decrepit structures on land it already owns, Buss said. "Consolidating significant acreage of land for use as green space or farms or for development could easily cost billions of dollars," she said, adding that right-sizing would not be a quick fix, and that without other, structural reforms, it would hardly be a cure-all for Detroit's problems (see sidebar).
Remapping Debate asked a spokesperson for City Council President Pro Tem Gary Brown whether, after the city made the cuts that the Council is proposing, there would be anything left over for a redevelopment strategy. He acknowledged that there would not be.
"What we are concerned with is trying to figure out what the essential services are," he said. "We have no choice but to make government smaller and hope that private investment comes in."
Segregation in the Detroit region
The vast majority of those who could afford to leave Detroit and who were able to find housing in the suburbs, especially between 1950 and 1990, were white. At the city's population peak in 1950, 16.1 percent of the population was black. Today, the city's black, non-Hispanic population is 82.4 percent.
While Detroit's population has declined by over 60 percent since 1950, the Detroit-Warren-Livonia Metropolitan Statistical Area ⎯ which includes the City of Detroit as well as several dozen suburban communities in six counties ⎯ has increased by more than 40 percent, and currently has a population of 4.35 million people. The Detroit Metro area is only 22.2 percent black, non-Hispanic.
Using Census data from 2010, the researchers John R. Logan of Brown University and Brian Stults of Florida State University ranked American metropolitan areas by a factor known as a "dissimilarity index," which measures how evenly demographic groups are distributed in a geographic area. They found that the Detroit Metro area is tied with Milwaukee as the most segregated major metropolitan area in the country for African-Americans (the New York City area came in a close third).
Pages